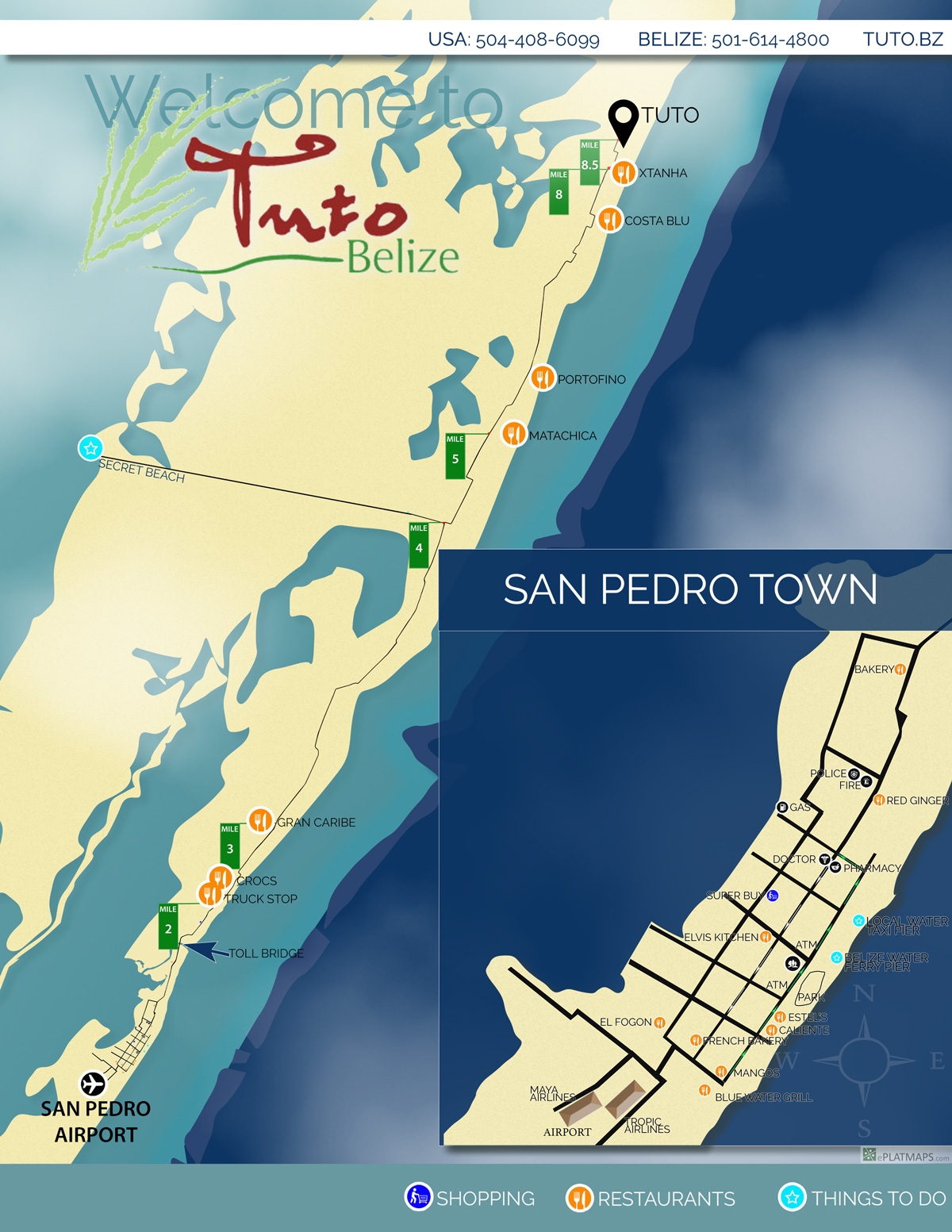 The Casitas at TUTO are located in a secluded enclave 8.5 miles North of San Pedro Town, Ambergris Caye, Belize. This family owned coconut plantation is 33 acres with 2,000 feet of beachfront along the eastern shore of the island enjoying the tropical prevailing winds and vistas of the Barrier Reef and Caribbean Sea.
Accessible by sea or road, TUTO offers the peace, tranquility, privacy, and experience a Belizean island getaway
Welcome
On behalf of us all, welcome to Ambergris Caye.
Your decision to stay with us at TUTO will be rewarded by a new experience in the Caribbean and Central America. The surrounding coconut plantation, private beach, views of the turquoise blue sea and barrier reef make for an exciting yet peaceful and relaxing escape, truly a vision of paradise on earth.
Your hosts,
TEAM TUTO: Edith, George Jr and George
Contact and communication/Wi-Fi
We are on site 24/7 and can be contacted by knocking on our doors or calling/texting the numbers below. (WhatsApp, iMessage)
Our cell numbers:
| | | |
| --- | --- | --- |
| George | 501-614-4800 | US 504-408-6099 |
| George Jr | 501-614-4373 | US 504-914-9148 |
| Edith | 501-667-4701 | |
| Sandy | | US 504-606-3147 |
| Marcos | 501-663-6090 | |
Complimentary Wi-Fi internet is available on site, the password is: neverleaving
Emergency procedures
Casitas are equipped with smoke detectors, please locate the fire extinguishers, it is important to know how to get them under adverse conditions.
In the event of a fire:
Leave your casita
Close the door behind you
Contact us
Assemble on the beach
In an attempt to avoid the above situation, we kindly ask you to refrain from the following:
Smoking in the casita
Lighting candles
Medical Assistance
First aid kits are supplied in each casita for your use and additional supplies are available upon request. Should the need arise you may consult a doctor in the town of San Pedro or our doctor on call shall make a site visit at guests' expense.
The green page
To help us protect the fragile environment of the Barrier Reef, we ask you to follow these guidelines.
Please refrain from touching the corals for your safety and to avoid harming the delicate reef system that protects the island and use reef-safe sunscreens to preserve it for our future guests to enjoy its splendor.
Conserve Water: All tap water is sourced from our wells and rain water, we would greatly appreciate your cooperation by limiting water usage.
Complimentary purified bottled drinking water is supplied.
Help use reduce the impact of wasted food by feeding the soil and animals. We actively compost and feed our chickens, birds and dogs with household food, vegetable/fruit peels.
Coconut plantation
TUTO is an active coconut plantation, for your safety be aware of the danger of falling nuts, do not walk or stand under the coconut tree, and do not climb trees.
Coconuts are available for BZ$5 each.
General information
Check in and check out times:
Check-in time is 3 pm and check-out is 10 am.
In cases of late departures, we will gladly store you bags and you can enjoy the beach, the casita needs to be prepared for incoming guests.
Housekeeping
You will be furnished with all necessities, please contact us for extra supplies, in an effort to maintain a disinfection control, we will supply when needed.
Personal Safe
We recommend all your valuables to be kept in the personal safe located in your wardrobe and ensure it is properly locked. TUTO will not be held responsible for the loss of personal belongings in the casitas.
Water sports
Complementary kayaks are available for your enjoyment, please contact us for help launching and retrieving from sea.
Safety vests are available in the closet, please leave wet vests on balcony.
For your safety from passing vessels, keep kayaks close if swimming between the beach and reef.
Food
Tuto offers complimentary provisioning service to our guests.
There are two restaurants nearby that deliver to our guests.
Transportation
Tuto arrange for San Pedro Airport pickup and drop off, cost US$50
Cancellation Policies
For a full refund of accommodation fees, cancellation must be made within 48 hours of booking and at least 30 full days prior to listing's local check-in time (or 3:00 PM if not specified) on the day of check-in.
For a 50% refund of accommodation fees, cancellation must be made 21 full days prior to listing's local check in time (or 3:00 PM if not specified) on the day of check in, otherwise no refund. For example, if check-in is on Friday, cancel by Friday of the previous week before check in time.
If the guest cancels less than 14 days in advance or decides to leave early after check-in, the nights not spent are not refunded.
Chargeable items:
Prices are in US dollars.
| | |
| --- | --- |
| Lost bungalow key | $70 |
| Lost safe key | $150 |
| Snorkel and Mask | $75 |
| Life vest | $35 |
| Kayak paddle | $50 |
| Kayak | $950 |
| Binoculars | $50 |
| Air-conditioner Remote | $100 |
| TV Remote | $100 |
| Beach Towel | $25 |
IN THE EVENT OF AN EMERGENCY
Leave your casita
Close the door behind you
Contact us
Assemble on the beach
Trip Protection
TUTO recommends that you purchase a travel protection plan to help protect you and your travel investment against the unexpected.
View travel protection plans